TOURISM CIRCUITS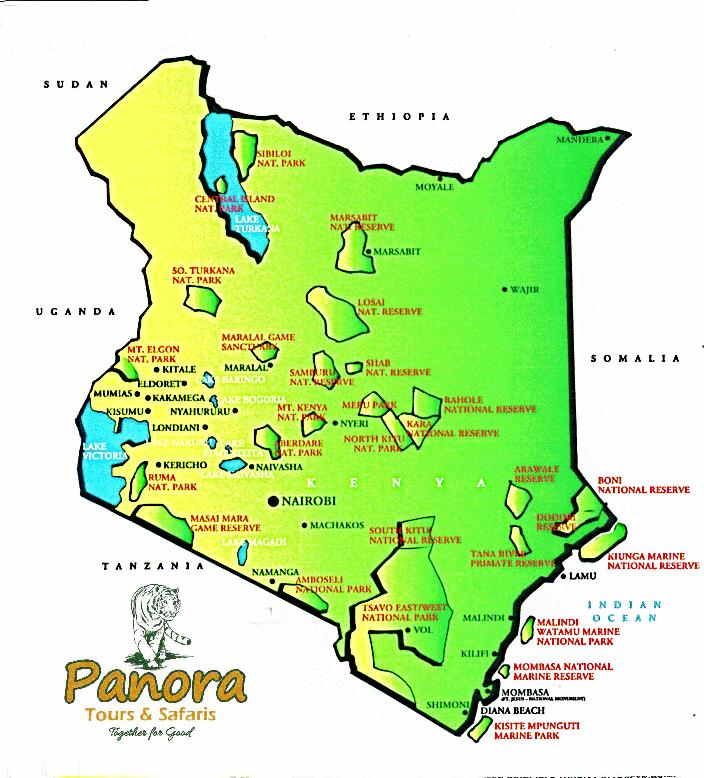 Kenya is a major tourism destination in Africa. The country divided into smaller tourism destinations which are called Kenya tourism circuits or regions. A tourist circuit is defined as a route on which at least three major tourist destinations are located such that none of these are in the same town, village or city; with well defined entry and exit points. The main objective of having Kenya tourism circuits is to increase the total number of visits to all the destinations on the circuit. Another objective is to provide tourist with a mix of attractions and activities in a destinations. The new Constitution (enacted in August 2010) focuses on counties, this makes Community Based Tourism Enterprises (CBTE's) have a real opportunity to speak as one voice. We have carefully put together tour packages combining most of the Kenya tourism attractions
The Kenya tourism circuits include:
Nairobi Tourism Circuit
Nairobi is the capital city of Kenya. The city represents a vibrant metropolis and is East and Central Africa's premier city. There are many museums dedicated to the country's history, you can truly experience Kenya's unique culture. Nairobi hotels are among the most opulent in the country and include a number of international hotel chains. Attractions here include;
Nairobi Animal Orphanage
Arboretum
Giraffe center
Nairobi National Park
Karen Blixen Museum
Nairobi National Museum
Karura Forest Reserve
Nairobi Safari Walk
Bomas of Kenya
Kenyatta International Conference Centre
Ngong Hills
Railway Museum
David Sheldrick Wildlife Trust.
South Rift Tourism Circuit
The Southern Rift comprises of the best known attractions including Masai Mara, Lake Nakuru and Lake Naivasha. Activities here include game watching with chances of spotting all of the Big Five game, bird watching, Ballooning, Hiking and rock climbing
Hells Gate National Park
Lake Nakuru National Park
Masai Mara National Reserve(Mara Triangle)
Masai Mara National Reserve
Lake Naivasha National Park
Coastal Tourism Circuit
The Kenyan coast consists of sun drenched beaches with soft sand, warm waters and refreshing sea breezes. The Kenya Coast has attractive creeks, sleepy rivers and shady inlets – The Kenya coast is an ideal place for big game fishing, diving, water sports – or just lazing around on the beach.
Parks and attractions to visit while on the Coastline Region of Kenya Safari Circuit include;
Arabuko Sokoke National Reserve
Kisite Mpunguti, Kiunga, Malindi and Mombasa Marine National Parks and Reserves
Shimba Hills National Reserve
Tana River Primate Reserve
Activities while on safari to the coastal region include; a visit to the last major remnant of tropical rain forest – Arabuko Sokoke and a chance of seeing some of it's rare bird species, the Tana river rare and endangered primates like the mangebey and red colobus monkeys, the Shimba hills reserve – the only abode of the sable antelope in Kenya, water sports in Mombasa including, jet ski, scuba diving, snorkeling and much more.
Central Kenya Tourism Circuits
The Central Kenya Safari Circuit Region is offers High Hill Country; a paradise for Daredevils. This is Kenya's high hill country above Nairobi – a land of mountain peaks, spectacular waterfalls and remote alpine moors that provide a unique and breath taking African Landscape. It is also an area of coffee plantations and small farms that make up the region's thriving agricultural sector. Parks and attractions to visit while on the Central Kenya Safari Circuit include;
Aberdares National Park
Mount Kenya National Park
Mount Longonot National Park
Activities while on safari to this region include; game viewing – high chances of seeing all the big five and rare forest antelopes like the bongo, the endangered black rhino, history of Kenya – settlers, scenic views of hills and waterfalls, mountain hiking and trekking.
Southern Tourism Circuit
Kenya's Southern region safari circuit is dominated by Tsavo (Tsavo East and Tsavo West) Kenya's largest national park. Further is Amboseli – Kilimanjaro's home and Chyulu hills rocky volcanic outcrops harboring a huge amount of game and Lake Jipe – a lake fed by Mount Kilimanjaro's run-off.Parks in the southern region safari circuit are close to the Kenya Coast
Parks and attraction in this safari circuit region include;
Amboseli National Park
Chyulu Hills National Park
Tsavo East National Park
Tsavo West National Park
North Rift Tourism Circuit
The North Rift safari circuit region offers remote and sometimes inaccessible attractions, a reserve of those who wish to explore Kenya at its most rugged, these regions appeals to visitors because of their hot springs and bird sanctuaries, Parks and lake attractions like Lake Bogoria, Baringo, Kamnarock, Turkana, South and Central Island, Nasalot, Sibiloi and Marsabit national reserve hold fascination for the traveller who like to go off the beaten track. One of the main event in this circuit is the annual camel derby, other activities here include game watching , ballooning, camel riding, fishing, horse riding and mountain biking. The attraction includes;
Laikipia National Reserve
Marsabit National Reserve
Nasalot National Reserve
Sibiloi National Park
South and Central Island National Park
South Turkana National Reserve
Eastern Kenya Tourism Circuit
The Eastern Region Safari circuit is just outside Nairobi and it includes Samburu, Shaba and Buffalo Springs which form contagious parks separated by the Ewaso Nyiro River.
Further out is the Meru National reserve consisting of open savannahs and is also adjacent to Bisanadi, Mwingi, Kora and Rahole National reserves and parks.
Bisanadi National Reserve
Buffalo Springs National Reserve
Shaba National Reserve
Kora National Park
Meru National Park
Ol Donyo Sabuk National Park
Mwea National Reserve
Mwingi National Reserve
Samburu Game Reserve
Western Kenya Tourism Circuit
The Western safari circuit is the least visited Kenya tourist circuit. The western Kenya region consists of rich forests, swamps and some of Kenya's rarest animal species. Kakamega forest is a habitat for over 300 bird species, the endangered De-Brazza,s moneky, the balck and white colobus monkey while Ruma national park is the only home to the roan antelope in Kenya and the Saiwa swamp is the only home to the endangered semi-aquatic sitatunga antelope. The attractions here include;
Kakamega Forest National Reserve
Ndere Island National Park
Kisumu Impala Sanctuary
Mount Elgon National Reserve
Ruma National Park
Saiwa Swamp National Park