Kenya tourist information is refers to the advice people visiting Kenya should know. Kenya is a country in East Africa with a coastline on the Indian Ocean. It encompasses Savannah, lake lands, the dramatic Great Rift Valley and mountain highlands. It's home to the big five wildlife of Africa. Kenya is one of the world's most popular tourism destinations attracting millions of tourists annually. The country has many attractive tourist sites, rich culture, striking geographical diversity and landscapes ranging from beautiful beaches, to animal parks and archeological sites.
Capital city of Kenya is Nairobi and is the East African economic hub. Other cities in Kenya include Mombasa, Kisumu and some of the major towns are Nakuru, Nyeri, Eldoret,Thika and Nanyuki.
The country is also referred to as cradle for human kind because evidence of some of the earliest human settlements has been found in Kenya, suggesting that it was the cradle of humanity from which descendants moved out to populate the world.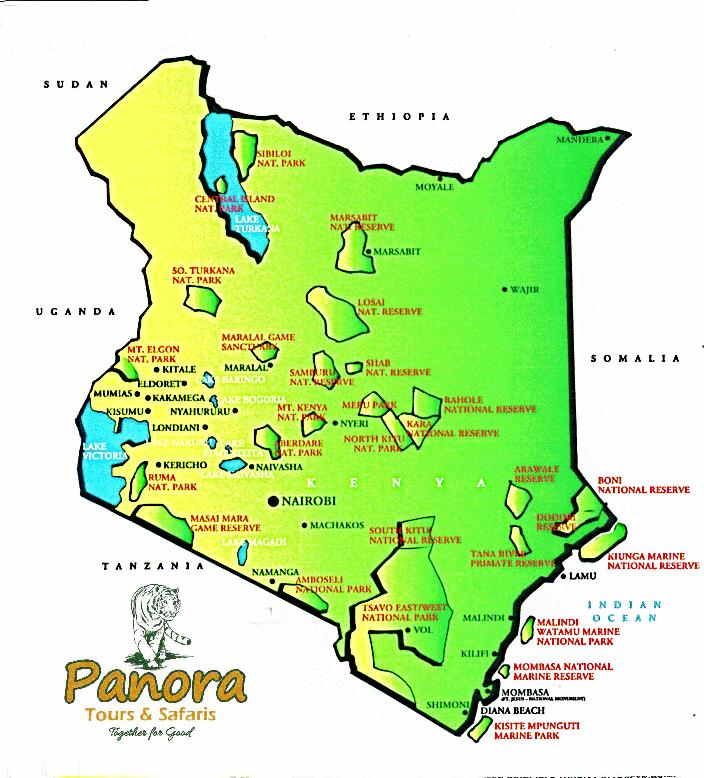 Location of Kenya
The country lies across the equator on the east coast of Africa and it covers a total land area of 582,000 sq. km (which includes 13,600 sq. km of inland lakes). Uganda borders Kenya to the west, to the north Ethiopia and the newest country in the world, South Sudan; in the south by Tanzania, and in the east by Somalia and the Indian Ocean. Lake Victoria is the largest lake in Africa with Tanzania and Uganda and is the main source of the Nile River.
It has the second highest mountain in Africa, Mt.Kenya after Mt.Kilimanjaro in Tanzania.
Kenya tourist information on Climate
As a country situated on the equator, Kenya has generally good and pleasant weather all year round. The weather varies from tropical along coast to arid in the interior. The hottest months are February and March, while the coldest months are July and August. long rains season is in April and June and the short rains are from September to December.
Kenya Population
The population of Kenya is 54,760,187 as May 5, 2021, based on Worldometer elaboration of the latest United Nations data
Kenyan Languages
Kenya is a multilingual country.There are more than 60 different indigenous languages spoken in Kenya. The official languages of the Republic are Kiswahili and English while national language of the is Kiswahili.
Kenyan Religions
Religion plays an important role in the life of most Kenyans. Kenya religion percentage in 2019 was estimated as Christian 85.5% (Protestant 33.4%, Catholic 20.6%, Evangelical 20.4%, African Instituted Churches 7%, other Christian 4.1%), Muslim 10.9%, other 1.8%, none 1.6%, don't know/no answer 0.2%
Kenya tourist information Culture
The culture of Kenya consists of multiple traditions and trends. There is a lot of cultural diversity in Kenya. The country has no single prominent culture that identifies it. Every contact between people in Kenya starts with a greeting. Even when entering a shop or hotel you shake hands and make polite small talk with the shopkeeper."Jambo'' and "Habari " ( Hello and how are you in Swahili) accompanied by a handshake are the common greetings throughout the country and are the first words a tourist hears when they arrive in Kenya.
Kenyans are world known for their warm hospitality, they are easy going, and helpful.
Kenya Currency
The official currency in Kenya is the Kenyan shilling (kes/kshs) and is available at all local banks and foreign exchange bureaux. The shilling comes in denomination notes of 1000, 500, 200, 100, 50 and 40,20,10,5,1 in coins.
Visitors to Kenya should change foreign currency at banks, bureaux de change or authorized hotels. The easiest currencies to exchange are Kenya shillings to US Dollars, Pounds sterling and EURO.

Travellers Cheques are widely accepted, and many hotels, travel agencies, safari companies and restaurants accept Credit Cards. Most Banks in Kenya are equipped to advance cash on credit cards.

There are no restrictions on the amount of foreign currency that can be brought into Kenya.

Before departure, travelers are advised to convert any excess Kenya shillings into foreign currency at a bank or bureau de change before departure. Departure taxes can be paid in local or foreign currency.

Anyone wishing to take more than 500,000 Kenya Shillings out of the country will require written authorization from the Central Bank. As you travel to banks in Kenya,first seek information about the current exchange rates
Banks are open from 8:00am to 4:00pm Monday to Friday. Some branches open on Saturdays from 9:00am to 12:00am.

Many banks are now equipped with 24 hour ATM machines.
You can also pay bills or transfer money using Mpesa mobile banking
Kenya tourist information Visa and passport requirements
The Kenyan passport is currently ranked as the 72nd most powerful passport in the world by the Henley Passport Index. It permits entry to over 70 different countries and territories without a visa in advance. Visa requirements vary according to country of origin. Most nationality however, require visa to enter Kenya, Tanzania and Uganda. We advise that you check with the nearest Embassy of Kenya, Tanzania or Uganda, if traveling to the respective country.
Visa can be processed at the airports upon arrival but this can be very slow. We therefore advise clients to purchase them from their countries of origin before traveling. However a valid visa possession does not warrant entry to the country therefore one must fulfill the immigration requirements. A passport with at least two blank pages, six months' validity, and a visa are required to enter Kenya. More Kenya travel information about visas and passports can be obtained from your embassies.
Immunization requirements in Kenya
No immunizations are required by law to enter Kenya if you are traveling directly from Europe or the US. However, if you are from any country which has Yellow fever or Ebola, a certificate with information about your immunization against them is required for entry into or travel between some African countries including Kenya
Vaccines commonly recommended for travelers to Africa include those against;
Tetanus
Diphtheria
Polio
Typhoid
Hepatitis A
Hepatitis B
Yellow fever
Rabies
Meningitis
Kenya tourist information on Food and Drinks
As you travel in Kenya you should be informed that weather can get really hot and all visitors should drink bottled water, which is available in supermarkets, restaurants, hotels, resorts and shops in towns.
Kenya is a major horticultural exporter and has a lot of healthy, sweet and juicy fresh fruits and a variety of vegetables available throughout the year although some are seasonal.
Kenya offers a cross-section of international cuisines from Japanese, French, Thai, Italian, Brazilian, Indian, Chinese, coastal cuisines and others.
Kenyans are known to have the best roast meat "choma", so there are many Nyama choma joints (restaurants) dotted all over the country. Nyama choma is always accompanied by a choice from the several Kenyan brewed beers, some of which have won world awards.
Hotel check-out & check in time in Kenya
The standard checkout time in Kenya is 10 :00 a.m. regardless of the actual departure time from your hotel. Day room facilities maybe available for clients leaving in the evening or they may allow you keep your room until departure depending on the occupancy of the Hotel. A charge will be payable locally for this service.
Kenyan Public Holidays

Kenyan Public holidays include:

1st January New Years Day
February/March Idd il Fitr
March/April Good Friday
March/April Easter Monday
1st May Labour Day
1st June Madaraka Day
10th October Moi Day
20th October Kenyatta Day
12th December Jamhuri Day
25th December Christmas Day
26th December Boxing Day

The Muslim Festival of Idd il Fitr celebrates the end of Ramadhan. The date varies each year depending on the sighting of a new moon in Mecca.

Dates for the Christian festival of Easter vary from year to year.
Communication in Kenya
Kenya has a good network of telephone, cellular and satellite connections. Most hotels and lodges offer International telephone and fax services. In larger towns, private telecommunication centres also offer international services. If you have a mobile phone with a roaming connection, then you can make use of Kenya's excellent cellular networks, which covers larger towns and tourist areas.
When calling Kenya, the International code is +254.
Internet – Kenya has good Internet Service Providers. Many hotels and lodges offer Email and Internet services. In most towns, there are plenty of private business centres and cyber cafes offering email and internet access.
Insurance
Take out travel insurance to cover loss of baggage or valuables, personal accident and medical expenses.
Kenya tourist information on Security
Kenya is a generally safe country. When traveling in Kenya you should keep an eye on your belongings. Don't walk in the towns or cities at night – take a taxi. Don't carry cameras or large amounts of cash; beware of pick pocketers. Use hotel safety deposit boxes to safeguard valuables and obtain a receipt. Leave valuable jewellery at home. You must carry a form of ID with you at all times. A copy of your passport is normally acceptable.Bag snatching is common in transport hubs like bus stations, railway stations and airports.
Kenya travel information on Shopping
The tourist areas and hotels sell a wide range of souvenirs, jewelry and trinkets. Don't be afraid to haggle at roadside curio stalls. As you travel in Kenya for shopping,our staff will give you information of various safe shopping centers.
Tipping in Kenya

Tipping is not mandatory in Kenya. Guides, drivers, waiters and hotel staff can be tipped at your discretion (max 10%) will be appreciated. $10 – $15 per day for driver or tour guide
Time
East African time zone is GMT+3. Most businesses in Kenya are open from Monday to Friday, though some also trade on Saturday. Business hours are generally 8:00am to 5:00pm, closing for an hour over lunch (1:00pm – 2:00pm).
Most businesses in Kenya are open from Monday to Friday, though some also trade on Saturday. Business hours on Saturday are generally 9:00am to 12:00am.

Media in Kenya

Kenya has several English language newspapers. The most popular are Daily Nation,The Standard and a free one People Daily Kenya and a Swahili newspaper Taifa Leo.
There is a weekly newspaper sold throughout Kenya, Tanzania and Uganda called The East African.

There are many Television channels and radios.

International newspapers and magazines are widely available in Kenya.

Electricity
The electricity supply in Kenya is 220/240 v 50hz.

Plugs are 3 point square.

If you are planning to bring a video camera charger or any other electrical advice, bring a universal adapter and a torch (flashlight) or headlamp.
Driving in Kenya
In Kenya you drive on the left unless you are overtaking.You require an international license. Plan long safaris carefully, ensuring your vehicle is road worthy with two spare tyres, an operational jack and tool kit. Carry extra fuel, spares and water.